Do you feel caught between whether to place your new home on home warranty or home insurance?
Despite the rising cost of home insurance premiums in the United States, Idaho remains one of the cheapest States for home insurance.
According to the Insurance Information Institute (III), an Idaho homeowner pays an average annual home insurance premium of $703, which is $59 per month. This is very cheap compared to the $1,192 paid as the national average.
Having a home to call your own is one of life's greatest achievements and investments. But it isn't enough to have a home. Out here in the Gem State, it is pertinent that you protect your assets too.
What's the best protection for your home?
Purchasing both a home insurance policy and a home warranty is one of the best decisions you will ever make. Not only will it cover your home, but it will also cover your belongings, system components, and appliances in case of repairs or replacement.
Do you find the concept of home insurance policy and home warranty confusing?
We've put together this guide to explain in detail all you need to know about these two ways of protecting your new home. During the course of this article, you will learn –
What a home warranty is
How a home warranty works
Benefits of a home warranty
What home insurance is
How home insurance works
Benefits of home insurance
Subtle differences between a home warranty and home insurance
What the best protection for your home is.
Let's start from the top…
What Is A Home Warranty?
A home warranty is a one-year service agreement that covers the cost needed to repair or replace home appliances and systems that were damaged over time due to wear and tear.
When you buy a home, either a new or old home, there is a good chance that you will be offered such a home warranty as a safety measure against unforeseen expenses; hence the need for a home warranty.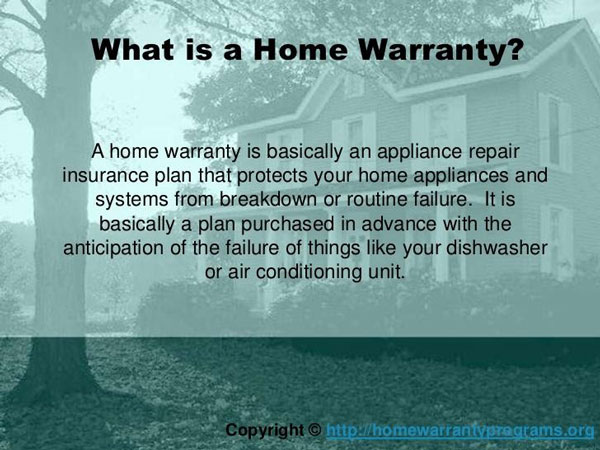 How Does a Home Warranty Work?
When you have to replace or repair a broken appliance in your home, you are required to place a service request. Then you will be required to pay an amount that covers the Trade Service Call Fee to initiate the service request.
A licensed, independent, qualified contractor will be assigned to determine what the issues are. He will contact you to schedule an appointment. When he comes, he will check to see if the damages or repairs are covered by your home warranty. He does this by diagnosing the appliance.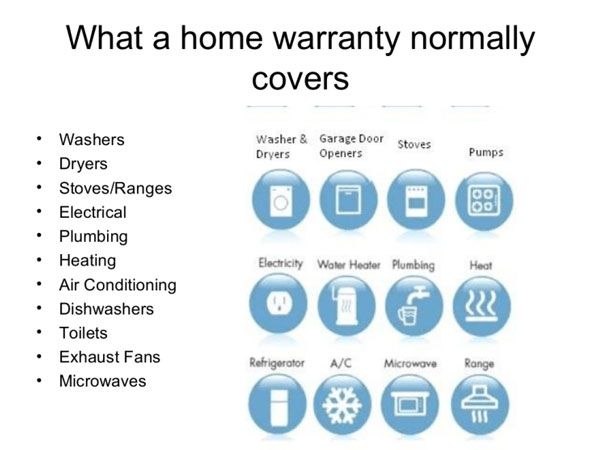 If your home warranty covers the problem, the contractor is then required to repair or replace your covered item subject to the limitations and exclusions of the home warranty.
At the end of the repair or replacement, you will get an email. This email is a follow-up to determine whether the problem was resolved to your satisfaction or not.
What Are the Benefits of a Home Warranty?
The main benefit of a home warranty is that it helps to maintain your budget. When items like air-conditioners, washing machines, or refrigerators break down suddenly, you don't need to lose any sleep if they are covered by your home warranty.
You will have peace of mind knowing you have a plan in place for unexpected breakdowns. You'll also have budget protection because you won't have to pay the full retail cost of repairing or replacing a covered item.
This is also good for a homeowner who doesn't have an emergency fund or wants to reserve funds for other things. A home warranty serves as peace of mind.
Home warranties are also good for people who aren't handy or don't want to worry about tracking down a contractor when they have a problem with any of the appliances covered in the warranty.
If you are someone with expensive taste when it comes to electronics and home appliances, a home warranty is the best for you.
A home warranty also provides reassurance to a person buying a new home, who has limited information about how well the home's components have been maintained,  or the quality of the home component and how well the home has been built in the case of new construction.
A warranty can also be helpful to people who have just used their savings to buy a home and want to avoid any additional major expenses.
If you are a home seller, offering a buyer a paid-up, one-year home warranty with the purchase may provide a measure of protection in the event the buyer complains about any discovered problems or defects that arise after the sale closes.
However, because you have provided a home warranty as part of your sale agreement does not exempt you from the legal requirements to disclose any known problems with the home.
So, what then is home insurance? Can it compete with the benefits offered by a home warranty?
What is Home Insurance?
Home insurance is a form of property insurance that covers or protects you financially in the event of unforeseen losses and damage to your home, including furnishings and other items in the home.
It can further provide liability coverage against accidents in the home or on the property. This is a type of insurance that covers the house and various items one can lose to theft, fire, lawsuits, natural disasters, etc.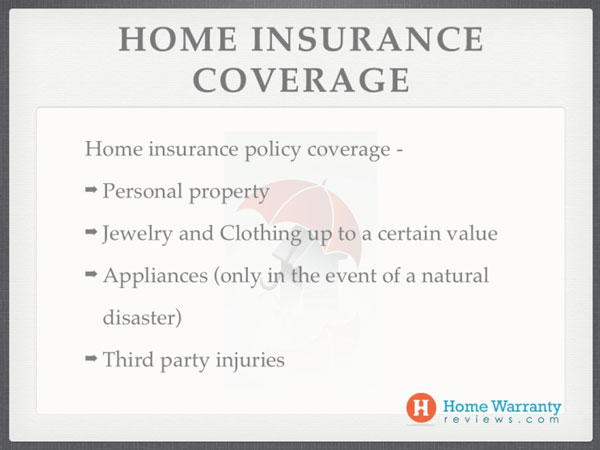 How Does Home Insurance Work?
No one wants to file a claim against their home insurance; unforeseen circumstances lead to that.
Often, it is not compulsory to report every minor incident involving loss or damage unless you're also considering a claim. This can vary between home insurers though, so be sure to check the terms and conditions of your home insurance policy.
Is there an exception to this?
An exception to this rule is any incident that has affected your ability to stay in the home or the security of your property. The damage could indirectly lead to an additional claim, or where a third party was involved.
When it comes to renewing or taking out home insurance, some insurers will also ask about any losses that could have led to a claim, even if you didn't pursue one. It is, therefore, pertinent for you to know how to calculate the value of your possessions.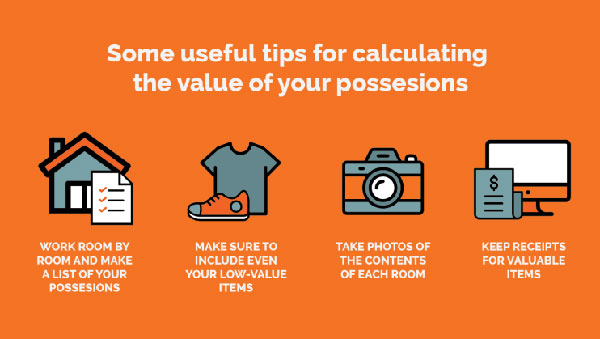 If your home or any of your items are stolen or damaged, you'll often be asked for proof, such as a receipt or a photograph. Some people have had their claims turned down by their insurer due to lack of evidence.
Whenever you make an expensive purchase, it's advisable to keep the receipt in a safe place or take a photograph of the item immediately.
How good are you at maintaining your home?
One condition home insurers insist on before a building is insured, is that your home is maintained on a regular basis. Claims may be turned down if it is discovered that this is not the case, mostly when storms damage the roofs. You should inspect your roof every few years and make sure that it is intact.
Most insurers will give you up to 180 days to claim from your home insurance, but it's always advisable to get in touch with insurers as soon as possible.
Also, most insurers prefer to handle large claims as soon as possible, especially in the case of a flood or fire. Delaying a claim could worsen the damage, making it more expensive to cover, and most homeowners are usually keen on getting back on their feet in the shortest possible time.
It may sometimes be tempting to clean-up after a fire or a flood. Nonetheless, you are highly advised against throwing away damaged items. Your home insurance company sometimes wants to assess the level of the items you have lost. So, you are expected to keep all damaged items, except those you are told to throw away.
In the event of a flood, you are also expected not to do any redecorating, at least before the assessment. This is because properties can take longer to fully dry out, and lifting a wet carpet could cause it to shrink.
When you submit your claim, your home insurance provider expects you to give a full explanation of what happened, as well as all provide evidence to support your claims. Taking a photograph of the damage to your property and its contents, or making a short video, can be useful in the event of a dispute.
Taking on a home insurance provider in the event of a large claim caused by a natural disaster can be daunting and demanding. Usually, an insurer will send a loss adjuster to do a total assessment of your property, and they are the ones that will decide how your claim will progress.
However, it is advantageous if someone is working with you personally to also have a look at the claim.
If you bought your home insurance policy through a broker, you can always go to them for assistance or you can decide to enlist the services of a loss assessor – a certified claims specialist who looks after the interest of the consumer, to help you at an additional cost.
What Are the Benefits of Home Insurance?
Home insurance is beneficial because the protection is not just for the home.
A good home insurance policy does not only protect your building, but also covers all the items in the building, like your garage, shed, deck, swimming pool, and even your fence.
Also, you can decide to obtain an additional policy that covers and protects the contents of your house like your furniture, electronics, and valuable home appliances.
If your home is insured, you will have financial security. This comes with the added advantage of repairing any damage to your home that is covered by the insurance policy. Based on the home insurance policy you have, you can get your damaged items replaced.
Natural disasters are every homeowner's nightmare. We don't see them coming, and often, we can do little or nothing to stop their effect on our properties.
The aftermath of taking up the expense of repairing a damaged house is not the kind of burden homeowners want to put on themselves and their families, especially when they are trying to overcome the emotions that come with the damage.
A good home insurance plan covers you during natural disasters like landslides, earthquakes, and floods, for a minimal monthly or yearly fee.
Home insurance is not expensive, although a home insurance policy might look very expensive and you may not want to incur any unwanted expense.
When you take a good look at the benefits provided under a home insurance scheme, you will see that the benefits are much more than money can buy. For an insurance premium of a few dollars, you can get a home insurance policy worth a huge amount of money.
Additionally, if your policy also covers the contents of your home, you will pay more but will gain even more in the end.
Based on the type of policy you have, you and your family will be protected in the event of property-related lawsuits. Your home insurance will provide protection if you or any member of your family accidentally damage another property, like in the case of a fire or mechanical damage.
Additionally, it will also cover the medical expenses when someone is injured on your property.
Is your peace of mind important to you?
Insuring your home provides you with the ultimate luxury of peace of mind. Whether you own a flat or a villa, once you have selected your policy and paid the required amount, protecting your property is no longer your responsibility.
Differences between a Home Warranty and Home Insurance
Both the home warranty contract and home insurance policy work in a similar way. Each has a yearly premium as well as a deductible, although the home insurance policy has a higher premium and deductible than a home warranty. Also, they protect different parts of your home in case something inevitable pops up.
What really differentiates a home warranty contract from a home insurance policy?
1. Coverage
The major differences between a home warranty and home insurance is the coverage.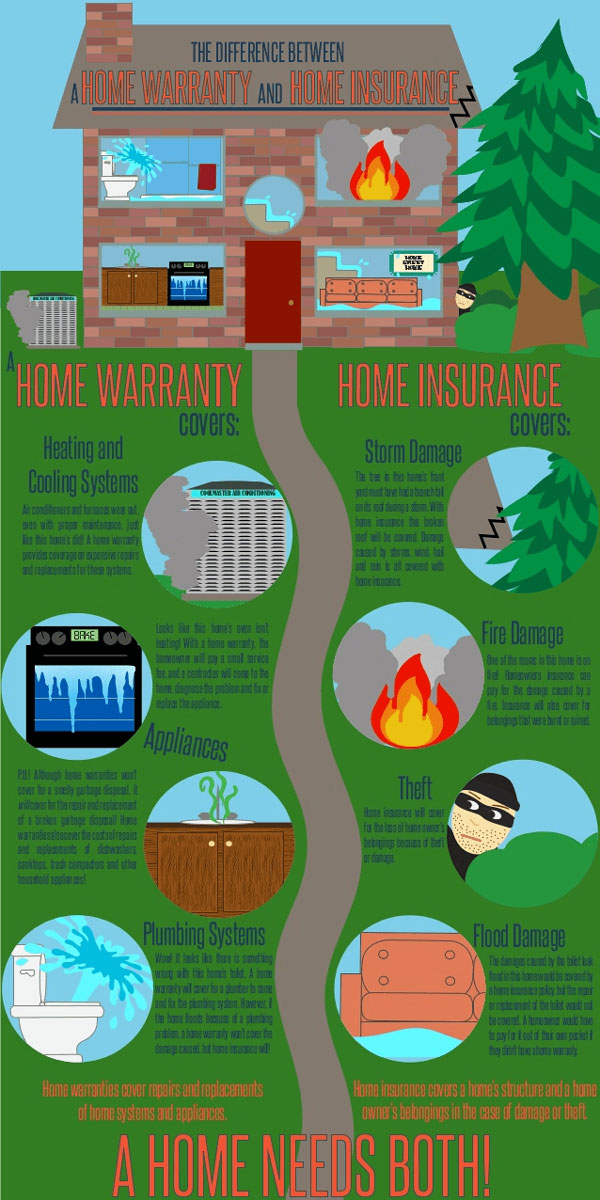 Home insurance covers major perils such, as fires, hail, property crimes, and certain types of water damage that could affect the entire structure and/or the homeowner's possessions.
On the other hand, a home warranty provides discounted repair and replacement services for a home's major components, such as the furnace, plumbing, and electrical systems. A home warranty may also cover major appliances, such as washers and dryers, refrigerators, and swimming pools.
2. Requirement
Generally, homeowners, especially those in Idaho, are required to have a home insurance policy for their properties if their homes are mortgaged. A home warranty plan, on the contrary, is not required. It is optional.
Which Protection Does Your Home Need – Home Insurance or Home Warranty?
To fully protect your home's structure, systems, and appliances, you need both home insurance and a home warranty. Home insurance can help you reduce the cost of repairs if your house structure is damaged, while the cost of repairing damages done to your home by malfunctioning systems or appliances can be reduced by a home warranty.
Hence, these two options work well together to protect every part of your new home.
Are you new in Idaho and thinking of purchasing home insurance?
Visit us at Old Harbor Insurance Services. Our team of experts will review the options available to you and send you a quote.