So, you have just moved into your beautiful new Idaho home.
But how do you ensure that your home is protected from uncertainties?
Get a homeowners insurance policy. With this policy, you are more protected than you can imagine, with coverage for damage and loss caused by a covered peril. In addition, it also covers the costs of lawsuits and new accommodation when your home becomes inhabitable by a peril.If you want to understand more about what a home insurance policy can do for you and how much coverage you can enjoy in your area of residence, you have to continue reading.
You will discover the following:
Types of home insurance policy coverage
Perils covered by a typical home insurance policy
Things you need to consider before choosing an insurance policy
7 Insurance endorsements for homeowners
Types of Home Insurance Policy Coverage
A good homeowner's insurance policy should cover damages resulting from water, wind storms, fire, hail, riots, and explosions, as well as other causes of loss, which may include theft and the extra cost of living elsewhere when the structure is being repaired or rebuilt.

A homeowners insurance policy can also cover your legal liability depending on the extent of your coverage.  If it happens that you, any member of your family, or even your pets hurt other people or damage their property outside your home, an insurance policy can cover it.
Coverage A: Dwelling
This type of home insurance policy covers any damage to your home caused by covered losses. With dwelling coverage, you can rebuild or repair your home and the structures that are attached to it, such as a deck or garage.
Coverage B: Other Structures
This coverage is for damage done to structures or buildings on your property, including detached garages, fences, or barns. Such damage has to result from a covered loss, like a tornado.
Coverage C: Personal Property
Personal property refers to damage to, or loss of your personal belongings due to theft or damage to your furniture, jewelry, and other valuables. If this loss is covered, you will be able to replace the lost or damaged items depending on the monetary limit dictated by your insurance policy.
If your lost or damaged belongings are worth more than what your home insurance covers, you may be required to purchase more coverage using a process called "scheduling valuables."
The process helps to expedite a personal property claim by making sure the home inventory of your properties is up-to-date.
Coverage D: Additional Living Expenses
Additional living expense coverage is for costs incurred by "loss of use" of your apartment when it is damaged to the point that you have to move out and live elsewhere. With this type of coverage, you can handle the cost of getting temporary accommodation and other related expenses.
Coverage E: Personal Liability
This coverage is for damage to another person's property that was in your care. Also, if you have a lawsuit, this coverage will help to handle the legal costs and liability judgments. However, this can only be done according to the amounts outlined in your insurance policy.
Coverage F: Medical Payments to Others
When other people staying in your home or on any part of your property sustain bodily injury, they will be covered by medical payments to others. This type of coverage addresses the costs for legal decisions or lawsuits resulting from such injury, but only up to the limits defined in your insurance policy.
Perils Covered By a Typical Home Insurance Policy
A peril is any event that can cause damage to your home or property. All the perils that your home insurance covers are listed in the policy that your insurance agency will give you.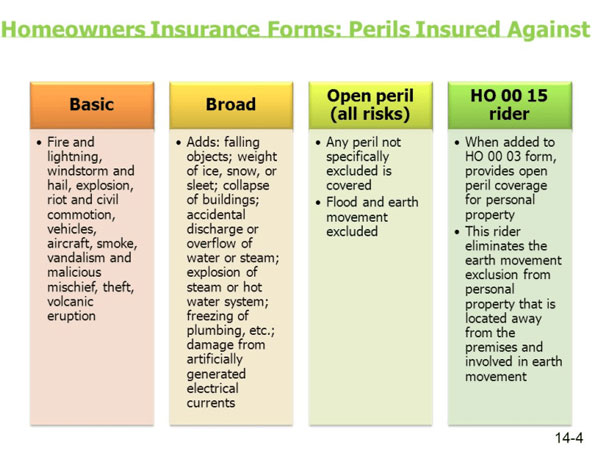 The list of perils that you are protected against is quite broad. Here are 10 of the most common perils that a typical home insurance policy covers:
Damage from a car, vehicle, or aircraft
Explosion
Falling objects
Fire and smoke
Lightning strikes
Theft
Vandalism and malicious mischief
Water damage
Weight of ice, sleet, or snow
Wind storms and hail
Things You Need to Consider before Choosing an Insurance Policy
Insuring your new home means that you are insuring two important things; they are:
Your property
Your home's structure
1. Your Property
When ensuring your personal belongings, you need to consider the following:
Actual cash value
This is insurance where the policyholder receives an amount equivalent to the replacement value of damaged property minus depreciation.
However, if a homeowners policy states that items are covered for their replacement value, then the coverage will be for the actual cash value.
Replacement cost coverage
Insurance that pays the required amount needed to replace the damaged personal belongings with the same type or quality of items without subtracting depreciation.
Useful Tips That Will Help You Get Maximum Value When Insuring Your Personal Belongings
Do you want to insure your personal belongings and get the most value for your effort?
These four tips will help you make that happen:
You will need to check the extent of your insurance policy regarding personal items;
These items may include computer equipment, silverware, jewellery,  and furs. If the limits are too low, consider buying a special personal property endorsement. An endorsement is an addition to your policy.
In addition, a floater can give you more value. A floater is a form of insurance that gives you room to separately insure items that you hold very dear.
Take inventory of your personal property
You will need to make a list of all the belongings in your home and in other buildings on the property. Jot down your valuable personal items and any available important information you have, such as:
Serial numbers
Make
Model numbers
Cost at the time of purchase
Present cost when it was purchased
Keep your documents safe
After making a list of all your belongings, it is important that the documents are kept in a safe place. Still or video pictures will do. Then attach receipts of purchases to the list you made.
Make an extra copy of the list and store it in another place outside your home, for example, a safe deposit box would do. This is very important because the copy in your home could be damaged or lost, so you need a backup.
Update your inventory regularly
As time progresses, you are likely to make other major purchases to be added to your new Idaho home. It is important that you update the list as soon as possible so that you don't forget. Always remember to make two copies and store in two different locations as before.
2. Your Home's Structure
When ensuring the structure of the home you need to consider the following three factors:
Actual cash value
Insurance that covers the cost of replacing your home minus depreciation costs for age and use. For example, if the life expectancy of your roof is 25 years and your roof is 20 years old, the cost to replace it in today's marketplace due to inflation will be higher than the actual cash value.
Extended replacement cost
Insurance that extends the replacement cost policy, one that covers costs up to 20 percent over the limit. This covers you against a sudden increase in construction costs.
Replacement cost
Insurance that pays you the cost of replacing the damaged items without subtracting depreciation, but is limited to a minimal amount of money.
Useful Tips To Help You Get Maximum Value When Insuring Your Home
When insuring your home you should make sure the total amount covers the cost to rebuild your home if it were destroyed. This is not the market value, but the cost of rebuilding.
If your insurance is insufficient, the insurance company may only cover a portion of the cost of replacing or repairing damaged property.
Do you want to insure your home to value?
The following are some tips to help make sure you get the maximum value of insurance:
You need to know the estimated amount required to rebuild.
To obtain this, multiply the local building costs per square foot by the total square footage of your house. To find out what the building rates in your area are, enlist the service of your local builders association or a professional builder.
You should also check with your insurance company representative to help with the estimate. Is important to note that this is just an estimate and should not replace the annual coverage review.
You also need to consider all the factors that will determine the cost of rebuilding your home;
This could include the cost of all the construction, the square footage of the building, the required exterior wall construction (including a frame, masonry, or veneer), the design of the house, the required number of rooms and bathrooms, the type of roof and roofing sheets, attached garages, fireplaces, exterior trim, swimming pool, playground for children, and other special features.
You will have to also compare the rise in the cost of building at the end of every year with the insurance policy.
Check with your insurance agent or company representative. In addition, also confirm if they offer an inflation guard clause. This automatically adjusts the dwelling limit when you renew your policy to reflect current construction costs in your area.
However, this is not to say you should ignore the services of local builders. You still need to be aware of local building costs, and should, therefore, check with local builders periodically
Verifying the building codes in your area is essential;
Building codes require structures to be constructed to particular minimum standards. If the damage to your home is significant, you might have to rebuild to comply with the new standards, requiring a change in design or building materials. You should expect to spend more when this happens.
When insuring your home, the market value of the home should not be your primary motive.
The cost of rebuilding your home may be higher or lower than the price you paid for it or the price you could sell it for today.
Most loaners may ask that you buy enough home insurance to cover your mortgage.
You should ensure that it is enough to cover the amount you will need to rebuild your home.
If you make any improvement or addition to your home, you must inform your insurer and also increase your policy limit.
Your insurer may ask you for proof, so ensure you keep all receipts and pictures of the home before and after the improvements.
7 Insurance Endorsements for Homeowners
If you feel you need additional protection for your home and belongings, you may need to pay the extra to get insurance endorsements.
Homeowners insurance endorsements, when added to your insurance policy, will guarantee that you enjoy extra protection.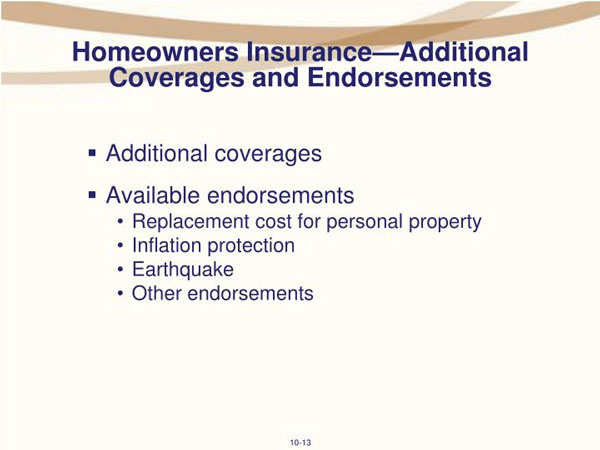 Here are 7 basic insurance endorsements for homeowners:
1. Coverage for forgeries of credit card and depositors
Has your credit card been lost, stolen, or used without your permission before? Did it hurt?
You can stop that from ever happening to you again by getting this protection for your credit cards. This endorsement also covers different types of forgeries of drafts, checks, or promissory notes.
Moreover, it has no deductible, so it is a great additional coverage.
2. Coverage for extended replacement cost
This allows you to insure your home and property for a certain value. If your reconstruction costs run over, you can add about 25 percent to the limit.
3. Coverage for guaranteed replacement cost
Once you meet the requirements of your insurance policy, this coverage can help to pay the cost of rebuilding your home.
4. Inflation guard
The inflation guard helps to increase your homeowners insurance as inflation rates increase. Therefore, you can maintain enough coverage to replace or repair damage to your home.
5.  Scheduled personal property
This protection offers broader coverage than the typical home insurance policy. It covers items that usually exceed the policy limits of your typical homeowners insurance policy. These items include jewelry, antiques, stamps, furs, computers, guns, and other articles.
This coverage, however, does not require a deductible. To increase the coverage for your money, securities, deeds, and bank notes, you will need to increase the limits on the money and securities.
6. Secondary residence
This provides protection for other residences or second homes, like a vacation residence.
7. Theft coverage protection
This provides broader theft coverage for contents in your trailer or motor vehicle that are stolen without any sign of forcible entry.
So, What Should You Do Now That You Have Settled Into Your New Home?
Most people don't want to think about insurance until they find themselves in a terrible situation. But, it is important to understand what your homeowner's insurance policy covers because that's the only way you can file claims for replacement or repair when there is damage to your home.
It is expected that, as a homeowner, you do a yearly insurance policy check to ensure that you maintain home remodeling, local building costs,  and item inventories.
At Old Harbor Insurance Services, we will discuss all the home insurance policies that are available for you. Guided by our capable team of experts, you will have the best home insurance policy for your new home.