Are the high homeowners insurance rates in your state preventing you from owning a house? Then perhaps it's time you moved to Idaho – the Gem State.
Why?
Well, according to the latest stats, Idaho has one of the lowest homeowners insurance rates in the country. While the national average cost of homeowners insurance stands at $1,211 annually, homeowners insurance in Idaho is about $736 per year.
Do you see where we're going with this?
It is not at all surprising that aspiring homebuyers are now moving to Idaho in droves. If you want to become a homeowner, and you want to enjoy affordable home insurance, then now is the time to relocate to Idaho!
In this blog post, we explore the top ten reasons why Idaho is a great place to live and work, and how the aspect of affordable home insurance comes into play.
Here's an outline of what we are going to cover:
A Brief Overview of the State of Idaho
Top Reasons to Relocate to Idaho
A Brief Overview of the State of Idaho
Idaho is the fourteenth largest state by area and has a population of 1,787,065 according to the latest estimates by the United States Census Bureau.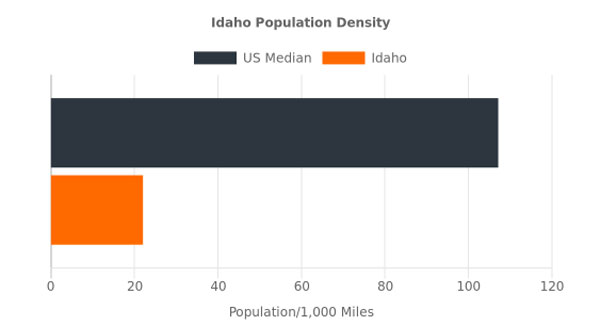 If you love less densely populated regions, then Idaho could just be the perfect place for you to live and work, since it has an average population density of 19.8 people per square mile.
This colorful and rugged state, located in the Pacific Northwest, supposedly derived its name from indigenous Americans, with Idaho standing for "Gem of the Mountains".
However, the real meaning of the name remains a mystery with many historians struggling to ascertain its origin.
Idaho's capital is Boise, which is also the largest city in the state. Other notable cities and towns include Meridian, Coeur d'Alene, Idaho Falls, Nampa, Lewiston, and Pocatello.
With so many opportunities to explore, live, work, and make merry in the Gem State, it is not at all surprising that many people consider Idaho the fastest-growing state in the country.
In the next section, we discuss some of the top reasons why moving to Idaho is a decision worth considering.
Top Reasons to Relocate to Idaho
1. Lower Cost of Living, Leading to Improved Quality of Life
Did you know that Idaho has one of the lowest cost of living indexes of all 11 western states?

According to a 2017 report, Idaho had a cost of living index of 93, which is lower than the national average of 100. This makes it one of the cheapest states to live in the entire country.
With plenty of savings on basic needs like food, shelter, clothing, and healthcare, moving to Idaho offers you the opportunity to improve your quality of life.
Whether you own a business or have a full-time job, you can make more money, spend less on everyday expenses, and improve your life drastically with your savings.
With a lower cost of living, you can save up, buy the home of your dreams, and enjoy the life you always wanted after relocating to Idaho.
2. Numerous Job Opportunities To Explore Your Career Path
Finding a job in the US is becoming increasingly difficult for most professionals. The unemployment rate in the country stands at 6.9% as of October 2020.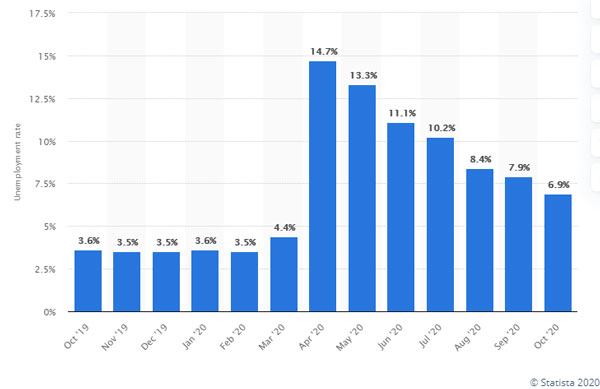 Fortunately, this is not the case in the state of Idaho. The Gem of the Mountains offers everybody a chance to follow their dreams and advance their careers.
Twelve months prior to the pandemic, the unemployment rate in Idaho was 2.7% only, according to data released by the Idaho State Department of Labor. This rate was closest to the lowest ever recorded unemployment rate in the country.
The fastest-growing industries in Idaho include property management, web development,  retail, tourism, veterinary services, agriculture, software development, marketing, and real estate.
Also, Idaho has witnessed tremendous growth in technology with big companies like Hewlett Packard and Micron Technology setting up in the region.
Whether you are a skilled professional or a semi-skilled artisan, moving to Idaho offers more opportunities for you to advance your career.
3. Affordable Housing and Home Insurance for Aspiring Buyers
Even in these unprecedented, tough financial times, everyone dreams of owning a house. However, the process of buying a house is a long and protracted journey. The high cost of housing coupled with outrageous home insurance rates does not help matters.
Fortunately, owning a house in Idaho is easier than ever. Even though housing prices have risen across the country, the rates in Idaho are considerably lower than the national average.
The median home price in Idaho is about $263,900 while the national average has risen to $320,000.
Nevertheless, homeownership comes with its fair share of expenses. For starters, you have to acquire home insurance to protect your property from damage and any related losses.
Regrettably, homeowners insurance comes at a price, and you may have to dig deeper into your pockets to afford the rising cost of coverage.
The good news is that Idaho has some of the lowest home insurance rates in the entire country. Talking to an expert will ensure that you find the best rates once you make the move to Idaho.
4. Tax Benefits for Businesses, Property Owners, and Seniors
The state of Idaho ranks 15th in property tax, with current rates standing at 0.75% of the total value of your property. Sales tax comes in at a base rate of 6% but may rise up to 9% when combined with local taxes.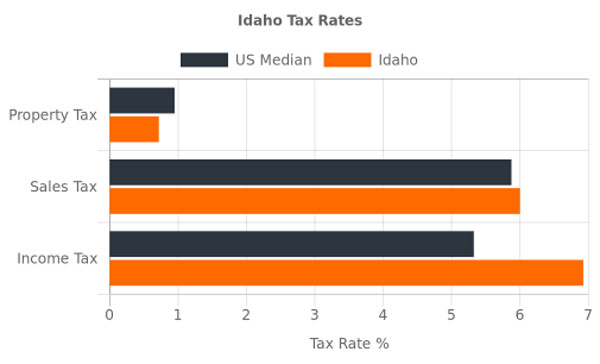 Income tax rates in Idaho range from 1.125% to 6.925%, depending on your taxable income.
Living in Idaho might not exempt you from paying taxes, but the state has some of the most favorable tax benefits.
For instance, senior residents enjoy unmatched tax benefits, including retirement benefits and social security benefits, which are all non-taxable in Idaho.
Retirees and senior residents also get grocery credit and important items, such as prescription drugs are not taxable.
5. Low Crime Rate for Reduced Economic & Social Costs
Believe it or not, but Idaho has one of the lowest crime rates in the entire country, ranking at No.5 out of 10, of the safest states in America. In fact, the rate of crime in most of the major towns and cities in Idaho has declined since 2018.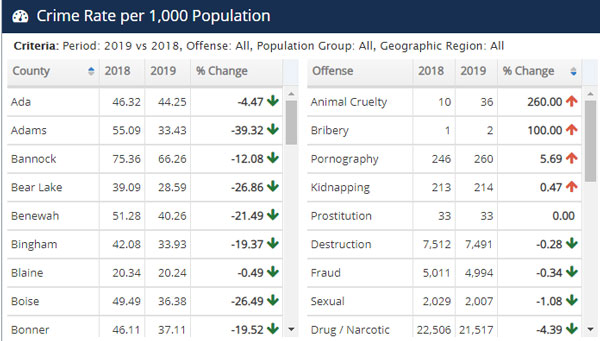 While the national violent crime rate per 1,000 people is 3.7, the rate in Idaho is only 2.3 incidents per 1,000 people. This is extremely good news for anyone who wants to relocate to the Gem State.
And as you probably know, a lower crime rate means less strain on the justice system.
With fewer cases to prosecute and fewer people going jail, the money used to run correctional facilities can be channeled elsewhere to industries, such as healthcare and agriculture.
6. The Great Outdoors for Thrill-Seekers and Nature Lovers
We can never talk about Idaho without mentioning the stunning mountain ranges, sparkling rivers, and breathtaking flora and fauna. Idaho is renowned for its epic topography and rugged terrain. This makes it the perfect destination for adventurous tourists.
Whether you love fishing, hunting, backpacking, or hiking, Idaho has some of the best spots for recreational activities. Besides, the urban areas have interesting sights and landmarks, not to mention the museums and historical sites.
If you need to grab a bite of your favorite snack and wash it down with a mug of cold beer, then Idaho is the place to be. The epic eateries, grills, restaurants, and coffee shops offer substantial entertainment for thrill-seekers.
7. Diverse Weather for Indoor and Outdoor Recreation
The weather in Idaho is wildly unpredictable sometimes. One moment it's sunny, the next moment it is raining. The good news is that this unpredictability does not last long since Idaho's climate is relatively mild throughout the year.
Whether you want to bask in the heat of summer or enjoy your favorite winter sports during the cold season, you should add Idaho to your travel bucket list. Unlike other states in the Northern Pacific, residents of Idaho enjoy all four seasons.
The southern region receives adequate sunshine during summer while the snow in winter is perfect – not enough to create a burden. The diverse topography in Idaho plays a crucial role in determining the weather patterns in the state.
8. Advanced Road Network For Easy Transportation
The ability to commute from work to home, or from home to the grocery store without any mishaps is of the utmost importance when deciding to relocate to a new state.
You need to look at the road network and available transport system before making your final decision.
Fortunately, Idaho has one of the best infrastructures in the country, meaning reaching different destinations within the state is not a problem. Besides, the 12,200-mile road network is excellent.
As if that is not enough, you may opt to take a flight to any of the 126 airports in the state or hit the 1,630 miles of rail to anywhere you want.
The extensive public transport system is perfect for those who don't enjoy driving. You may also use your bicycle or even walk if you want to travel and keep fit at the same time.
9. Excellent Educational Opportunities To Expand Your Knowledge and Advance Your Skills
If you want to advance your knowledge and skills, and perhaps take your career to the next level, we suggest you take advantage of the numerous educational opportunities the state of Idaho has to offer.
Idaho is home to some of the most reputable institutions of higher learning. Although not ranked at the same level as the likes of Stanford and Havard, the University of Idaho ranks No. 170 among the Best National Universities in the country. How great is that?
10. Friendly People
Idahoans have a reputation for being friendly. You can start a chat in the bus with a total stranger or ask for directions and get the much-needed help you need. Idahoans are not only friendly, but also very welcoming. So, when you decide to make the move to the North West, you can always rest assured that you will receive a rousing welcome!
So, What Can You Take Away From This?
As you probably know, homeowners insurance is one of those expenses we can't live without. Although not compulsory, this insurance coverage is great for anyone who wants to buy a home.
Homeowners insurance protects your home and personal belongings from damage and losses. Some policies also provide coverage for freestanding structures on your property. With this type of insurance, you can live the life you want with the peace of mind you deserve!
Unfortunately, all that glitters is not gold. After all, homeowners insurance can be costly, depending on where you live and the insurance firm you use.
Moving to the state of Idaho presents to you a once-in-a-lifetime opportunity to own a home and pay lower homeowners insurance rates. What is even more amazing is that Old Harbor Insurance is here to guide you through every step of the way.
We have some great insurance policies tailored just for you! Call us today or visit our website to get a quote and find out more about our excellent insurance offers.